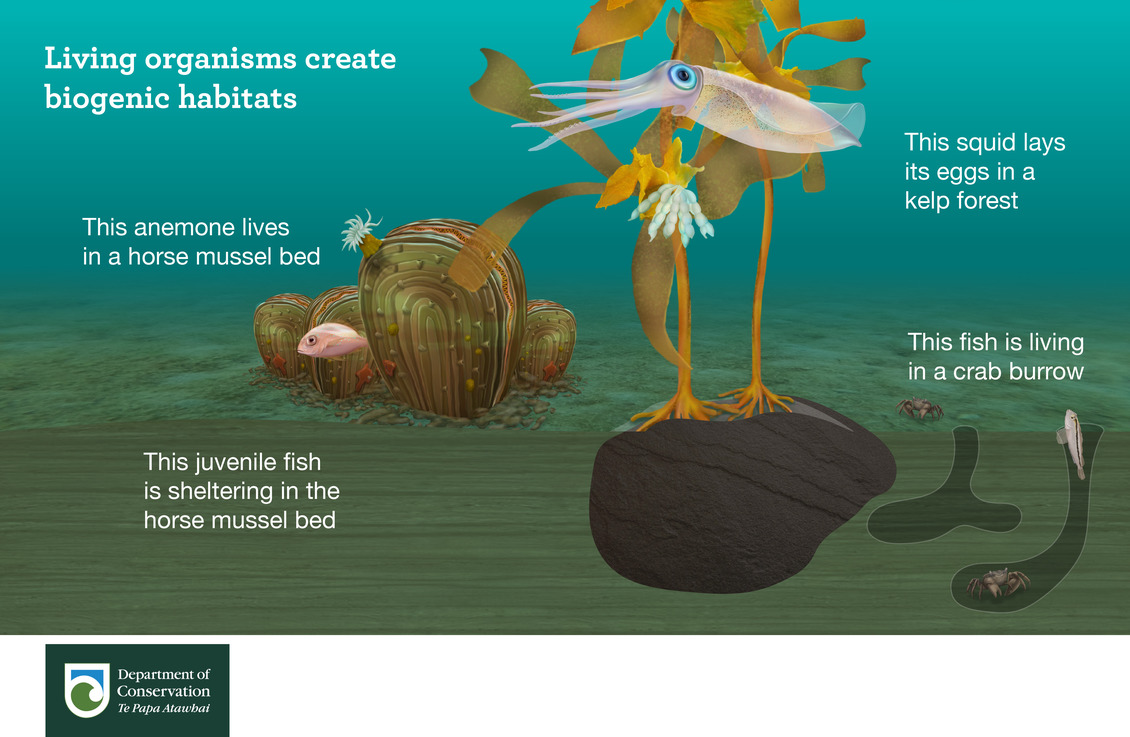 Biogenic habitats perform many crucial functions that we also rely on as humans.
Kaimoana
Some, such as kuku and tuangi (New Zealand cockles), are harvested as traditional kaimoana (seafood) or commercial fisheries species. Others provide nursery sites for young fish such as snapper and moki.
Filtering the water column
Many species forming biogenic habitats (sponges, shellfish, tube worms) filter the water column, removing excess nutrients and transferring sediments from the open water to the seafloor.
Seafloor engineering
Much like land plants, which stabilise soil with their roots to control erosion, larger biogenic organisms stabilise the seafloor. Silt, mud and rocks aren't very hospitable to many species, but pioneering species like seagrasses and hururoa (horse mussels) happily settle on these sediments, providing structure for other species to make their homes.
Creating habitats for other species
These 3D structures become habitats for invertebrates, fish and shellfish, which in turn feed seabirds and large marine mammals like fur seals.
New Zealand waters host a myriad of biogenic habitats
These include kelp forests, mangroves, seagrass beds, kuku beds, sponge gardens and bryozoan beds.
Download the Department of Conservation infographic as a PDF.
Copyright: Department of Conservation